<!- sidebar-file='/sites/www.rumson.k12.nj.us/web/rumson/Health Services/_zumu_sidebar.html' -->
Health Services
<!- box:2016side2 -->
Health Services Home
District Health Policies
Deane Porter School Nurse
Forrestdale Nurse
Health Services in the Rumson Schools
Parent Information (Health & Guidance)
Immunization
Medical Forms
Medication Administration FAQ
NJ Family Care
Welcome to the Forrestdale Middle School
Health Pages for 2019-2020



The School Health Office is an integral part of Forrestdale School. Our goal is to provide all students with a healthy learning environment to facilitate academic success. The health office is staffed with a Certified School Nurse; in addition a Medical Director is available to provide medical oversight of our services.
School Nurse Maria E. Montanez, RN, MSN
School Physicians Dr. S. Shah and Dr. Brunetto, M.D.
Phone: 732-842-0383 ext. 318
Fax: 732-844-8076.
Email: mmontanez@rumsonschool.org .
The Nurse is available to administer medications and/or treatments, assess illness and injuries, administer first aid, screen students, and intervene with actual or potential health problems. Please read the section on medication administration to avoid any medication administration delays. Screenings include, height/weight, blood pressure, hearing, vision, and scoliosis (for age 10 and above) assessment. Once a screening is completed the student will be provided a form with the findings for your review.
A few reminders for our school year
Avoiding colds and viral infections during the school year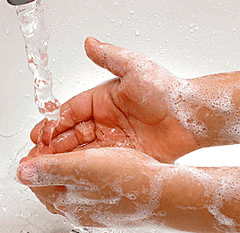 The Centers for Disease Control recommends these simple measures to reduce your exposure to germs that can cause the flu, viral infections or colds!! Cover your mouth and nose when you cough and sneeze with a tissue or the upper part of your sleeve or arms. Use hand sanitizer or wash your hands after sneezing, coughing, using the bathroom, before eating or before touching your eyes, mouth or nose. Hand washes should last long enough to sing Happy Birthday twice. Please review these simple tips with your child. For the approaching Flu season please contact your pediatrician or primary health care provider to schedule your childs influenza vaccination. Finally please keep your child home if she/he is ill. Every student attending school should be fever free without the use of fever reducing medication for at least 24 hours. A few links are listed below to direct you on the use of hand sanitizers, handwashing, covering your cough and influenza information.
WHAT IS THE FLU?
The flu, the common name for influenza, is a highly contagious respiratory disease caused by influenza viruses.
WHAT ARE THE SYMPTOMS OF THE FLU?
Fever, Cough, Sore Throat, Body Aches, and Headache.
WHO GETS THE FLU?
Anyone can get the flu. On average, in the United States, 5% to 20% of the population gets the flu each year.
WHEN DOES THE FLU OCCUR?
Flu season in the United States is usually in the fall and winter months. The peak of flu season is between October and April.
HOW CAN THE FLU BE PREVENTED?
Get the flu vaccine, Cover coughs and sneezes, Wash hands frequently, Avoid sick people, Clean commonly shared or frequently touched items.
WHEN SHOULD I GET THE FLU VACCINE?
You should get vaccinated as soon as vaccine is available (ideally by October-November) and as long as flu is present in the community.
DO I HAVE TO GET VACCINATED EVERY YEAR?
Yes. The seasonal flu virus is always changing, so you need to get a new vaccine each year.
AFTER I GET VACCINATED, AM I PROTECTED RIGHT AWAY?
No. It takes about two weeks for your body to be protected.
WHAT SHOULD I DO IF I GET THE FLU?
Drink plenty of liquids, Get plenty of rest, Stay home from work or school, Call your healthcare provider
HOW DOES THE FLU SPREAD?
The flu virus spreads though droplets that enter the air after people cough and sneeze. Others can breathe them in or get them on their hands and become infected when they touch their eyes, nose or mouth.
WHEN ARE PEOPLE CONTAGIOUS?
People can spread the flu up to 24 hours before they feel sick and for about a week after symptoms begin. That time may be longer for children.
HOW SOON DO FLU SYMPTOMS START?
Symptoms usually start 1 to 3 days after the flu virus enters the body.
HOW LONG DO SYMPTOMS LAST?
People are usually sick for about one week.
Backpacks
Backpacks come in all sizes, colors, fabrics, and shapes and help kids of all ages express their own personal sense of style. And if they're used properly, they can be a useful tool for kids.
The American Academy of Pediatrics (AAP) recommends that parents look for the following when choosing the right backpack:
a lightweight pack that doesn't add a lot of weight to your child's load (for example, even though leather packs look cool, they weigh more than traditional canvas backpacks)
two wide, padded shoulder straps - straps that are too narrow can dig into shoulders
a padded back, which not only provides increased comfort, but also protects your child from being poked by sharp edges on objects (pencils, rulers, notebooks, etc.) inside the pack
a waist belt, which helps to distribute the weight more evenly across the body
multiple compartments, which can also help distribute the weight more evenly
Here are some easy steps your child can take to prevent injury when using a backpack:
Lighten the load . No matter how well designed the backpack, doctors and physical therapists recommend that children carry packs of no more than 10% to 15% of their body weight - but less is always better. If your child doesn't know what 10% to 15% of his or her body weight feels like, use the bathroom scale to get an idea (for example, if your child weighs 80 pounds, his or her backpack shouldn't weigh more than 8 to 12 pounds).
Sports
Sign up for tryouts will be available online via the rumsonschool.org website under the forms section of the Forrestdale sports home page
Any student wishing to tryout for any school sport must have a history, physical exam, permission slip and a concussion information sheet completed. A physical is required prior to the first day of tryouts. It is valid for one year (365 DAYS). If there is a physical on file with the nurse a health history update sheet will need to be submitted with the concussion and permission/consent form.
NJ Department of Education has a "Pre-participation Health History Questionnaire and Physical Examination form that is available online. Click here for many downloadable forms or they can be located on the web page under downloadable forms.
The NJ "Pre-participation Health History Questionnaire and Physical Examination" form is the only form that can be used for a student wishing to tryout for any school sport.
All areas must be completed. This included date of exam, blood pressure, vision test results, and pulse rate. An incomplete form will be returned to the student and can interfere with the student's ability to tryout.
Prior to tryout the coach for each sport will need a parental consent for tryouts and emergency contact numbers. This form is also available on the district web site. An additional concussion information sheet will also need to be completed.
Remember no physical means no tryout, no exceptions
We always encourage school physicals to be administered by your primary health care provider.
For those students that will not have a physical by the deadline our school physician will provide a (no charge) sports physicals at Forrestdale .
Parents please download the NJ state forms complete the history and the top demographic portion of the physical and return the forms to the nurse.
For fall sports, physicals will be provided by our school physician on Tuesday, August 14, 2018. This is the only date physicals will be provided by the district prior to the fall sport season. Please contact the school nurse for future physician dates for winter and spring sports.
Parents please contact the school nurse to request an appointment for your child to have a school physical. The nurse can be reached at 732-842-0383 ext. 318 or via email mmontanez@rumsonschool.org .
All forms are due to the school nurse prior to tryouts. Our school physician must review all sports physicals (this includes physicals completed by primary pediatricians, or private health care providers) to confirm eligibility for participation in school sports. The due date for all forms will be determined by the date of the school physicals and first day of tryouts. Additional school physical dates will be announced.
Please contact the nurse if you want to schedule an appointment with the school physician.
Fall/Winter Sports
Soccer, Field Hockey and Cross-Country will be under way in the fall. Basketball will begin late fall.
Spring Sports
Girl's Softball, Boys Baseball, Track/Field, and Tennis signups start in February.
Preventing Sports Injuries
Sports injuries may seem inevitable but many are preventable. Here are a few helpful hints to enjoy the sport of your choice while minimizing the chance of injury.
Use protective gear when possible.
Warming up, stretching and light jogging can help decrease muscle strains or injuries. Start getting ready for tryouts a few weeks before the season begins.
Fluids, fluids, fluids. Drink plenty of fluids to avoid dehydration in warm weather.
To avoid sunburn, apply sunscreen, wear a hat and avoid the sun during the hottest part of the day (usually between 10 am- 4 pm).
Don't play if you are injured.
Concussion Information

A concussion is a type of traumatic brain injury , or TBI, caused by a bump, blow, or jolt to the head that can change the way your brain normally works. Concussions can also occur from a fall or a blow to the body that causes the head and brain to move quickly back and forth.
Signs
Appears dazed or stunned
Is confused about assignment or position
Forgets an instruction
Is unsure of game, score, or opponent
Moves clumsily
Answers questions slowly
Loses consciousness (even briefly)
Shows mood, behavior, or personality changes
Can¡¦t recall events prior to hit or fall
Can¡¦t recall events after hit or fall
Symptoms
Headache or pressure in head
Nausea or vomiting
Balance problems or dizziness
Double or blurry vision
Sensitivity to light
Sensitivity to noise
Feeling sluggish, hazy, foggy, or groggy
Concentration or memory problems
Confusion
Does not ¡§feel right¡¨ or is ¡§feeling down¡¨
Anyone who experiences any of the signs and symptoms listed above after a bump, blow, or jolt to the head or body will be kept out of play the day of the injury and until a health care professional, experienced in evaluating for concussion, says they are symptom-free and it is OK to return to play.
For more information on preventing sports related health injuries and concussions, log on to the cdc.gov web site(s)
Cardiac Health and the Young Athlete
Sudden cardiac death is the result of an unexpected failure of proper heart function, usually (about 60% of the time) during or immediately after exercise without trauma. Since the heart stops pumping adequately, the athlete quickly collapses, loses consciousness, and ultimately dies unless normal heart rhythm is restored using an automated external defibrillator (AED). NJ has developed an educational program that includes information on the cardiac health of the young athlete. All students wishing to participate in sports are required to review the educational information prior to tryout. More information can be found on the websites listed below.
Preventing Sports Related Eye Injuries
Participating in sports and recreational activities is an important part of a healthy, physically active lifestyle for children. Unfortunately, injuries can, and do, occur. Children are at particular risk for sustaining a sports-related eye injury and most of these injuries can be prevented. Every year, more than 30,000 children sustain serious sports-related eye injuries. Every 13 minutes, an emergency room in the United States treats a sports-related eye injury.
According to the National Eye Institute, the sports with the highest rate of eye injuries are: baseball/softball, ice hockey, racquet sports, and basketball, followed by fencing, lacrosse, paintball and boxing. Thankfully, there are steps that parents can take to ensure their children's safety on the field, the court, or wherever they play or participate in sports and recreational activities. Approximately 90% of sports-related eye injuries can be prevented with simple precautions, such as using protective eyewear.
Each sport has a certain type of recommended protective eyewear, as determined by the American Society for Testing and Materials (ASTM). Protective eyewear should sit comfortably on the face. Poorly fitted equipment may be uncomfortable, and may not offerthe best eye protection. Protective eyewear for sports includes, among otherthings, safety goggles and eye guards, and it should be made of polycarbonate lenses, a strong, shatterproof plastic. Polycarbonate lenses are much stronger than regular lenses.
Health care providers (HCP), including family physicians, ophthalmologists, optometrists, and others, play a critical role in advising students, parents and guardians about the proper use of protective eyewear. To find out what kind of eye protection is recommended, and permitted for your child's sport, visit the National Eye Institute at http://www.nei.nih.gov/sports/findingprotection.asp. Prevent Blindness America also offers tips for choosing and buying protective eyewear at http://www.preventblindness.org/tipsbuying-sports-eye-protectors,and http://www.preventblindness.org/ recommended-sports-eye-protectors.
It is recommended that all children participating in school sports or recreational sports wear protective eyewear. Parents and coaches need to make sure young athletes protect their eyes, and properly gear up for the game. Protective eyewear should be part of any uniform to help reduce the occurrence of sports-related eye injuries. Since many youth teams do not require eye protection, parents may need to ensure that their children wear safety glasses or goggles whenever they play sports. Parents can set a good example by wearing protective eyewear when they play sports.
The most common types of eye injuries that can result from sports injuries are blunt injuries, corneal abrasions and penetrating injuries. ✦ Blunt injuries: Blunt injuries occur when the eye is suddenly compressed by impact from an object. Blunt injuries, often caused by tennis balls, racquets, fists or elbows, sometimes cause a black eye or hyphema (bleeding in front of the eye). More serious blunt injuries often break bones near the eye, and may sometimes seriously damage important eye structures and/or lead to vision loss. ✦ Corneal abrasions: Corneal abrasions are painful scrapes on the outside of the eye, or the cornea. Most corneal abrasions eventually heal on their own, but a doctor can best assess the extent of the abrasion, and may prescribe medication to help control the pain. The most common cause of a sports-related corneal abrasion is being poked in the eye by a finger.
✦ Penetrating injuries: Penetrating injuries are caused by a foreign object piercing the eye. Penetrating injuries are very serious, and often result in severe damage to the eye. These injuries often occur when eyeglasses break while they are being worn. Penetrating injuries must be treated quickly in order to preserve vision.
Signs and Symptoms of an Eye Injury
Pain when looking up and/or down, or difficulty seeing
Tenderness
Sunken eye
Double vision
Severe eyelid and facial swelling
Difficulty tracking
The eye has an unusual pupil size or shape
Blood in the clear part of the eye
Numbness of the upper cheek and gum; and/or
Severe redness around the white part of the eye ​
If a child sustains an eye injury, it is recommended that he/she receive immediate treatment from a licensed HCP (e.g., eye doctor) to reduce the risk of serious damage, including blindness. It is also recommended that the child, along with his/her parent or guardian, seek guidance from the HCP regarding the appropriate amount of time to wait before returning to sports competition or practice after sustaining an eye injury. The school nurse and the child's teachers should also be notified when a child sustains an eye injury. A parent or guardian should also provide the school nurse with a physician's note detailing the nature of the eye injury, any diagnosis, medical orders for the return to school, as well as any prescription(s) and/or treatment(s) necessary to promote healing, and the safe resumption of normal activities, including sports and recreational activities. According to the American Family Physician Journal, there are several guidelines that should be followed when students return to play after sustaining an eye injury. For example, students who have sustained significant ocular injury should receive a full examination and clearance by an ophthalmologist or optometrist. In addition, students should not return to play until the period of time recommended by their HCP has elapsed. For more minor eye injuries, the athletic trainer may determine that it is safe for a student to resume play based on the nature of the injury, and how the student feels. No matter what degree of eye injury is sustained, it is recommended that students wear protective eyewear when returning to play and immediately report any concerns with their vision to their coach and/or the athletic trainer.
Additional information on eye safety can be found at
http://isee.nei.nih.gov
http://www.nei.nih.gov/sports. 4
http://vision.about.com/od/emergencyeyecare/a/Sports_Injuries.htm
http://www.nj.gov/education/students/safety/health/SportsRelatedEyeInjury.pdf
Medication administration during the school day

Medications that are administered by the school nurse must have a signed physician order. The orders must include the name of the medication, dose, and frequency. All orders unless otherwise specified are maximally valid for that school year, prescribers may choose to provide an order for a shortened period of time i.e. class trips.
If the medication is to be administered as needed the order should spell out when the medication is to be administered for example, Ibuprofen 200 mg every 6 hours as need for pain. Medications that are provided must match the container, any pills that are provided in Ziploc bags will be returned.
These requirements include all OVER THE COUNTER MEDICATIONS i.e., ibuprofen, acetaminophen, and homeopathic medications. There are only 2 medications that may be self administered epipens, and asthma inhalers. The primary health care provider must state on the order that the student may self administer the identified medication. Physicians and health care providers may fax orders to the school at 732-842-4876.
Please consider medication needs when you are at the pediatrician or health care providers office i.e., orthodontist office for application or tightening of braces. Blank medication forms are available under downloadable forms in the health services section for Forrestdale tab. If you have any question regarding medications administration during then school day please feel free to contact the school nurse at 732-842-0383 ext. 318 or via email mmontanez@rumsonschool.org . All medications provided to the nurse can be picked up by the last school day of the year at 12 noon. All medications left will be discarded.
Immunizations
In addition to all the elementary school vaccine requirements students entering the 6th grade are required to have 2 additional vaccines . The first vaccine is a booster immunization that includes tetanus/diphtheria/acellular pertussis (Tdap). The Tdap vaccine protects against diphtheria, tetanus, and pertussis (whooping cough). All of these are serious, potentially deadly illnesses caused by bacteria .
The second vaccine is the meningococcal. Meningococcal disease is an infection caused by a strain of bacteria called Neisseria meningitidis . Meningococcal disease can include meningitis -- a serious, potentially life-threatening inflammation of the membranes covering the brain and spinal cord -- and a life-threatening blood infection. Meningococcal disease can cause limb loss through amputation, hearing loss , problems with the nervous system, mental retardation, seizures, and strokes.
Parents will be notified of the required documentation for all students entering the 6th grade. Students new to our district will need to provide documentation related to all required immunizations.
In addition, the CDC recommends that everyone 6 months of age and older get a seasonal flu vaccine. This includes all children aged 6 months up to their 19th birthday. Influenza (the flu) is a contagious respiratory illness caused by influenza viruses . It can cause mild to severe illness, and at times can lead to death. Some people, such as older people, young children, and people with certain health conditions , are at high risk for serious flu complications. The single best way to protect against seasonal flu and its potential severe complications in children is to get a seasonal influenza vaccine each year. The seasonal flu vaccine protects against three influenza viruses that research indicates will be most common during the upcoming season. The flu vaccine protects against the three main viruses that research indicates will cause the most illness this season.
For more information on these and other vaccines please visit the cdc.gov web site. any questions related to the vaccination requirements please contact the school nurse at mmontanez@rumsonschool.org or via telephone at 732-842-0383 ext. 318.